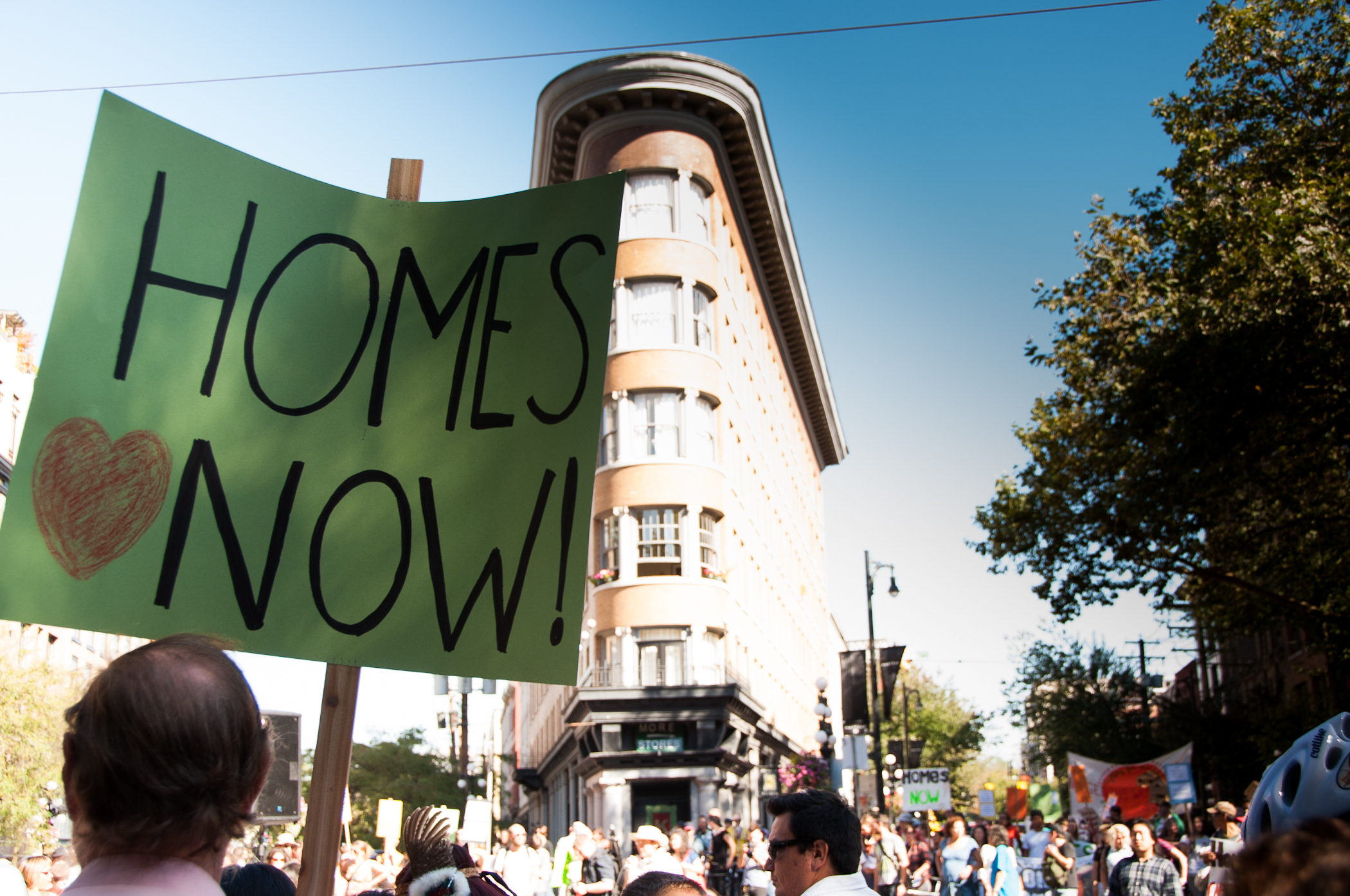 Photo by Caelie Frampton | Wikimedia Creative Commons
Just over a year has passed since City Council and the Mayor were sworn into office, and in that year, the housing affordability crisis has only gotten worse. Or so at least we can speculate, in the absence of much data. What we do know, is In Grandview-Woodlands, for instance, housing prices have risen by 30%. While Council is patting themselves on the back and calling  a new rental development "affordable", the price of 1bedrooms are far from modest - starting at $1300  a month. BC Housing is no longer collecting data on the number of people who are turned away from shelters, which further denies us valuable information on the state of the ongoing homelessness crisis. Almost a quarter of Vancouver renters spend more than half their incomes on rent, and the vacancy rate sits at below one percent. Social housing waitlists are years long, and co-ops are anxiously waiting for confirmation that their operating agreements will be renewed under the newly elected federal government. Ordinary working Vancouverites who need to find a new home, especially families with kids, are faced with a difficult and desperate search. It's enough to make a family consider leaving town, like many already have. But what if your job, family, and support systems are here? What if you consider Vancouver home? What if you consider this beautiful, beloved city a place you'd like to be for the long haul?
We at OneCity believe that a strong Vancouver - a diverse, vibrant, and welcoming Vancouver - starts with affordability. People from all backgrounds should be able to feel like they can pay the rent and build relationships in their communities. We also believe that government intervention is the best way to achieve affordability in Vancouver. Here are some of our ideas:
First, Vancouver city council must adopt a policy that "affordable housing" be defined as housing costs that do not exceed 30% of household income. This is a standard set by the Canada Mortgage and Housing Corporation and has been in practice for decades. This way, city policies can be consistent - and affordable housing will actually mean something when City Council and the Mayor talk about it. Remember that $1300 one-bedroom? Under an established definition, you'd need an income of over $53,000 annually to afford it - well above Vancouver's median. "Rental" doesn't equal affordable.
Second, speculation needs to be addressed. People who own a property that is not their primary residence should be taxed at double the regular rates. This may or may not deter people from the speculative market, but it will increase city revenues, which in turn could be used to build more affordable housing. Profits made from speculation - selling a property in fewer than 5 years - should also be taxed more heavily. Mayor Gregor Robertson actually alluded to this idea earlier this year - without mentioning it was part of OneCity's election platform, we might add - but he should do more than hope the Province acts on our suggestion.
Finally, we need to get serious about building affordable housing. City Council should strengthen its inclusionary zoning policies so that in all new market housing developments of over 5 units, 20% of those units are built as rent-geared-to-income units.
Our suggestions are ambitious, but not without precedence. Other cities around the world that struggle with affordability, like San Francisco, London, and Hong Kong, have adopted similar policies. Doing something to address the affordability crisis will also strengthen the Mayor and Council's position when they lobby higher levels of government. We think they should start by asking for a national housing strategy and a Minister of Housing.
Our response to the housing crisis will define us as a city. Will we be xenophobic and covetous, possessed by the pursuit of single-family home ownership? Or will we care for each other? Will we look out for one another by creating policies that treat homes not as commodities but as places we live, and by ensuring Vancouver remains a place that is inclusive of everyone, and not just the affluent?
OneCity calls on Council and the Mayor to do the second: define affordability; address speculation; require developers to build affordable housing. We can do all of those things. And because we are a compassionate city that looks out for all of its citizens, the status quo - of exclusion, of injustice, of mean-spiritedness towards those who fall below a particular income barrier- simply can not continue.
Do you like this post?